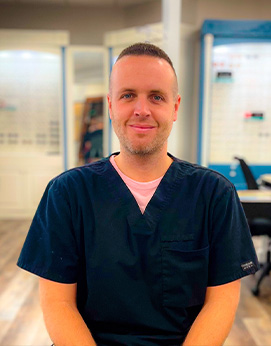 Dr. Fritts was born and raised in Kentucky. During his time in the "bluegrass state," Dr. Fritts graduated from Georgetown College where he received his undergraduate degree with a concentration in biology and chemistry. He was also a member of the school's golf team for four years. After receiving his undergraduate degree, Dr. Fritts worked in the optometric field for several years before eventually attending and graduating from optometry school at the University of Pikeville-Kentucky College of Optometry in 2020.
Dr. Fritts has received an extensive amount of clinical training. Places of training include the following:
Commonwealth Eye Surgery (Lexington, KY)
Helderman & Jacobs Vision Center (Mt. Sterling, KY)
KY College of Optometry Specialty Clinics (Dry Eye, Low Vision, Vision Therapy) (Pikeville, KY)
Pikeville Medical Center (Pikeville, KY)
Mountain Comprehensive Health Clinic (Whitesburg, KY)
The Optometry Group (Norfolk, VA)
R. Thomas McHugh, O.D. (Morehead, KY)
This level of clinical training has permitted Dr. Fritts to become experienced in routine eye care, treatment and management of eye disease, post-operative surgical eye care, contact lens fitting, and pediatric eye care.
When not seeing patients, you can likely catch Dr. Fritts on the golf course enjoying his favorite sport/hobby. He also enjoys hiking and being outdoors with his chocolate lab, Birdie. Dr. Fritts and Birdie love spending most of their time with the two newest additions to their family, Alexa (fiancé) and Beau (Alexa's pet Yorkie).
Dr. Fritts is very excited to be a part of the Northeast Georgia community and he looks forward to providing many of your eye care needs.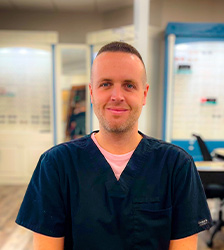 Our Locations